Sprint Car home / The cars / The drivers / The tracks / Fallen heroes / The California scene / Sprint links
---
Get well soon, Bud Kaeding!
The latest: Bud Kaeding wins the Pombo-Sargent Classic at Hanford on July 18th. Way to go, Bud!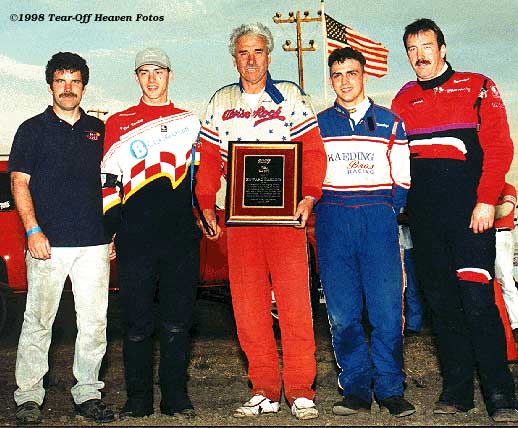 3 generations of racing Kaedings at San Jose Speedway's Tribute to Howard Kaeding in 1997. From left: Joel, Bud, Howard, Tim, and Brent Kaeding.
It looked like 1998 was going to be a banner year for Brandon "Bud" Kaeding, the 3rd generation racer from Campbell, California's Kaeding racing dynasty. Already the 1996 San Jose Speedway 360 sprint car track champ, 1997 National Sprint Car Rookie of the Year, and a two-time winner on the Northern Auto Racing Club winged sprint car tour in California, at the age of 18 Bud was planning to run the full NARC tour and selected World of Outlaws races. The busy youngster was also slated to run a couple of Indy Lights races.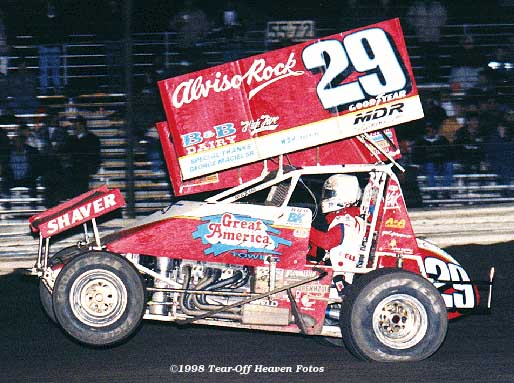 Bud Kaeding on his way to winning the NARC opener at Hanford, CA.
On March 7, he had won the NARC season opener at Kings Speedway in Hanford, on a night when many veteran racers -- including Bud's father Brent, who collided with a backmarker while leading by a straightaway late in the main event -- met with disaster on a rough and tacky track. Everyone walked away shaken but otherwise unhurt from that evening.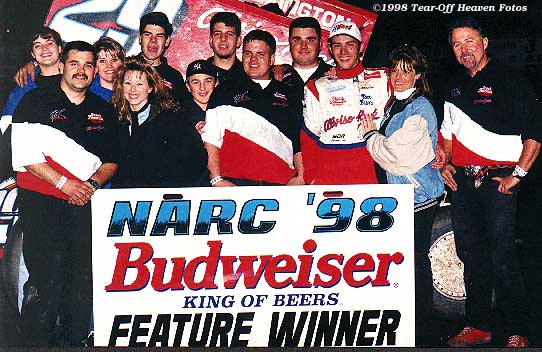 Bud Kaeding and the crew of the #29 celebrate their season-opening victory on the Kings Speedway frontstretch.
But trouble is never far from a sprint car track, and it caught up with Bud at the Mini Gold Cup on the following Saturday night, March 14th, at Silver Dollar Speedway. Reports posted on the Hosehead's Sprint Car Photos & News Web page indicate Bud was running 3rd on lap 23 of the main event when he tangled with Brad Furr, then violently slammed the front stretch wall.
Bud was rendered unconscious by the impact, which was so violent his helmet was cracked in 3 places! One hand apparently came to rest on a hot muffler, causing 3rd degree burns to two fingers through his Nomex gloves. As if that weren't enough, Bud also suffered a broken left elbow on the front stretch wall.
Brent -- who was leading at the time of the crash -- and Bud's brother Tim both withdrew from the race to accompany Bud to the hospital. Bud reportedly regained consciousness at the hospital and was recognizing family and friends on Sunday.
A note posted on the Kaeding web page on Monday, March 16, indicated that Bud was expected to make a full recovery from his injuries. On Wednesday the 18th, Bud was released from the hospital.
Shortly thereafter, Bud made an appearance at the NARC race at the Tulare Thunderbowl Raceway on March 21st. Not driving a race car, of course, but chatting with fellow racers and giving interviews. Everyone present was happy to see him up and about.
Bud returned to NARC action at Chico's Silver Dollar Speedway on April 11. His results that night were nothing to write home about, with a 14th in the B Main, but he's been improving every race since. At Tulare on April 18, Bud got a 3rd in his heat and a 16th in the feature.
Update: Returning to the scene of his last triumph, Bud won NARC's Pombo-Sargent Classic feature at Hanford, CA's Kings Speedway. Young Kaeding rim-rode the 3/8 mile oval to perfection, passing Randy Hannagan and Randy Tiner in the process, and pulling away in the last 11 laps.
His recovery complete, Bud is looking forward to selected Indy Lights races with the Dorricott Racing team later in the year, including the finale on the 2-mile California Speedway in Fontana.
Contacting Bud
Get-well cards can be sent to:

Kaeding Performance
813 Cristich Lane
Campbell CA 95008

Or you can send email to kaedings@earthlink.net.
Please join me in wishing Bud a speedy recovery!
Credits
Page layout and text copyright © 1994-1998 Chuck Fry. Unless otherwise stated, all photos this page are by Steve Lafond, and are copyright © 1993-1998 Tear-Off Heaven Fotos.
See the full copyright notice for details.
The initial reports used in this writeup came from Hosehead's Sprint Car Photos & News. A tip of the hat to Allan Holland for the most current coverage of the US sprint scene.
Thanks also to Billy Foland (B.F.) at the Kaeding shop for additional details.
---
Sprint Car home / The cars / The drivers / The tracks / Fallen heroes / The California scene / Sprint links
---
Get Well, Bud! / Copyright © 1994-1998 Chuck Fry / webmaster@chucko.com