Sprint car home / The California scene / California tracks / California drivers / Sprint links
---
California Sprint Car Drivers
California is blessed with two major touring groups for 410 cubic inch sprint cars: the Northern Auto Racing Club (NARC) winged series in the north and central state; and the Sprint Car Racing Association (SCRA) non-winged tour in the south. Besides these tours, as of early 1999 there are 3 regional tours for 360 cubic inch sprinters, and at least a half dozen tracks run sprint car racing every weekend, making the Golden State a hotbed for sprinters. Here are a few of the West Coast's familiar faces.
NARC's big guns
The winged warriors of the NARC tour represent California's fastest dirt drivers. This highly biased look at Who's Who in NARC represents my own opinions from 10 years of following the tour.
For a second opinion, follow this link for more NARC driver profiles and photos!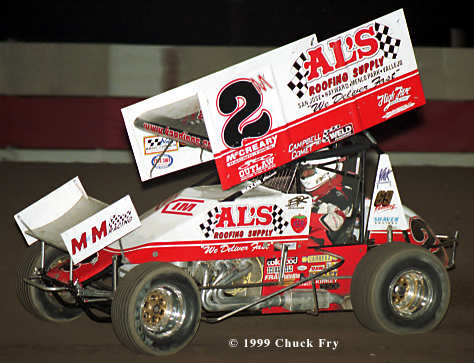 Brent Kaeding qualifies the M&M Racing Maxim at San Jose, March 1999. Photo by Chuck Fry.


Brent Kaeding is California's winningest active driver. "BK" holds more NARC and Golden State Challenge series titles, and has won more NARC races, than any other driver in NARC's 40-year history. The son of longtime San Jose regular Howard Kaeding and father of "Bud" and Tim Kaeding, and a principal in the family owned Kaeding Performance Center, Brent is the man to beat on the West Coast. For years running the #69 Gambler, in 1997 Brent enlisted Al Peterson as his car owner, switched to the #2M Maxim chassis with the same crew, and dominated the NARC series as always! 1998 was more of the same, with BK winning 8 NARC features, clinching his 11th NARC title at the next-to-last race at San Jose, and finishing 2nd in the Golden State Challenge series. Congratulations to the Kaeding team for another successful season!
| | |
| --- | --- |
| Tiner qualifies at San Jose in March 1999. Photo by Chuck Fry. | Another podium appearance for "Boo." |

Randy Tiner has a severe hearing disorder, a potential handicap in a race car that lacks mirrors. So naturally he just stands on the gas and runs for the front! "Boo's" damn-the-torpedoes style is a thrill to watch. He's driving the family-owned #83 in NARC competition again this year, and giving BK and Hannagan a run for their money. With his 7 NARC feature wins, Tiner finished 2nd in the '98 NARC points chase, and 3rd in the Golden State Challenge series in 1998 as well. Tiner has become one of the guys to beat in NARC!
| | |
| --- | --- |
| "The Hurricane" runs the low line at San Jose, March 1999. Photo by Chuck Fry. | After winning everything in sight at California's San Jose Speedway, including both the 410 and 360 track championships in 1994, Randy Hannagan proceeded to take the 1995 WoO rookie title. "Hurricane" Hannagan and the always-immaculate #1X owned by brother Terry are a combination to watch on the NARC tour and other selected West Coast races. In 1998 Randy triumphed over BK in the Golden State Challenge series, and finished in 3rd place in the NARC overall points race, winning 8 NARC "A" mains and picking up 11 fast times along the way. While some drivers would take the winter off, the "Hurricane" flew to Australia, where he won 7 races and took 2nd in the World Series Sprintcars season championship. Back Stateside again, Randy's started 1999 at the same pace, setting fast time and beating BK in the NARC feature at San Jose in late March! |
| | |
| --- | --- |
| Former GSC "King of California" Steve Kent of Fresno is a favorite of central California fans for his steady, consistent driving style. In 1998, he finished 4th in the NARC points race with 2 feature wins, and 5th in the Golden State Challenge. Kent is after another GSC title behind the wheel of Roger Henderson's #7N in 1999. | Steve Kent qualifies at San Jose, March 1999. Photo by Chuck Fry. |
The only regular NARC driver in a position to challenge the Kaeding dynasty in 1997 was Bobby McMahan, whose early-season performances gave him a short-lived lead in the NARC Golden State Challenge points. In '98, Bobby managed a 4th in the GSC points and 5th overall in NARC. with 1 feature win to his credit.
| | |
| --- | --- |
| | Bobby's younger brother Paul McMahan, shown here in a 1995 photo, looked like the only hope for "Anybody But BK" fans in 1996, with some strong performances and a handful of wins, but the opportunity to run with the Outlaws was too much to resist, and he left the NARC tour in midseason. "Pauly" battled all through 1997 for the World of Outlaws rookie title, losing out to Donny Schatz at season's end by only a handful of points. After running the first half of the NARC season in the #01 JB Enterprise "house car", Paul got the call from the Stanton Racing team, and as of late July had returned to drive their #75 Outlaw car. Most recently, Paul has headed East, driving the #U2 car in early 1999 on the All-Star tour and selected WoO and open races. |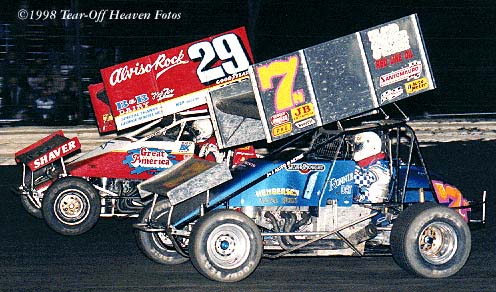 Bud Kaeding in the #29 drives around Ronnie Day's #7N at the 1998 NARC opener in Hanford.
Challenging father Brent's lock on the NARC title is Brandon "Bud" Kaeding. After winning the 1996 San Jose Speedway 360 sprint championship, a pair of 1997 NARC features, and the National Sprint Car Hall of Fame 1997 Rookie of the Year title, Bud opened the '98 NARC season with a win at Kings Speedway in the #29 owned by George Maciel. But a freak accident at Chico's Mini Gold Cup the following week put Bud in the hospital with a severe concussion and other injuries. See the Get Well, Bud! page for more information.
Fortunately Bud returned to NARC action on April 11th at Chico, and returned to Victory Circle at Hanford's Pombo-Sargent Classic on July 18! And he opened 1999 by winning a pavement race, the USAC Western States sprint car race at Irwindale Speedway's grand opening. Look for more good things from this young driver!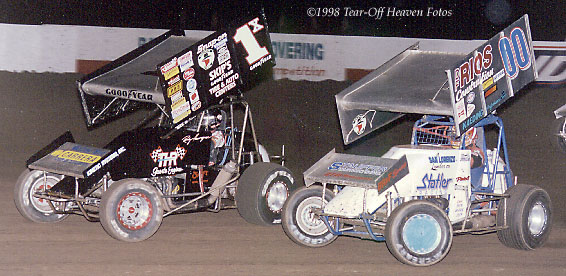 San Jose local heroes (now NARC regulars) Randy Hannagan and Jason Statler get racy at the 1995 San Jose Outlaw stop.
Jason Statler isn't known as "The Big Guy" for nothing. He's easily 6-foot-4 and 250 pounds, and I've joked that they should spot him 20 cubic inches! But there's no joke about the way Jason drives, and despite the weight handicap he's already won a couple of NARC features. Look for more wins from this strapping young man.
| | |
| --- | --- |
| | No profile of Northern California racers would be complete without mentioning Placerville's Jimmy Sills, a winner in all forms of dirt track racing. With or without a wing, Sills is a charger. When he's not running a USAC midget, NARC sprint car, or the Stanton Racing MOPAR #75 Silver Crown car, Jimmy operates the Jimmy Sills School of Open Wheel Racing in Marysville, CA. So don't call him "Buckwheat" or "Luke Warmwater"... now Sills prefers to be known as "The Professor!" Here we see "The Professor" at work in the General Automotive #14J at the 1998 NARC opener at Kings Speedway. |
SoCal wingless winners
The Sprint Car Racing Association (SCRA) continues the Southern California wingless tradition established by the California Racing Association in its long history. The unique "back-'em-in" style required by the non-winged cars produces its own kind of excitement, and a special breed of race driver. Here are some of the drivers to watch when SCRA comes to your area.
For more SCRA driver photos and information, check the official SCRA Star Drivers page.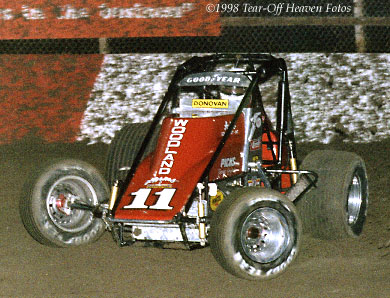 Ron Shuman gets it sideways at Bakersfield in 1993.
Ron Shuman was one of the best non-winged runners and a one-time Outlaw. His duels with fellow retired Arizonan Lealand McSpadden were legendary. A graduate of Phoenix's Manzanita Speedway scene and many-time winner of the Turkey Night Grand Prix midget race, "The Flying Shoe" retired from driving at the end of 1997. But he'll still be a frequent sight at the race track, in his new job as President of the SCRA!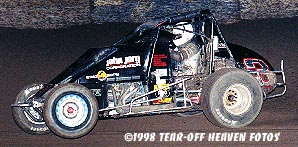 Rip Williams is a long-time fan favorite, and one of the SCRA's most consistent winners. "The Ripper" is a threat to win anywhere in the Jory #3.

Young J. J. Yeley is a busy young driver, and the reason is obvious. He's quick! The Arizona speedster was named SCRA's Rookie of the Year in 1994, has been one of the contenders on the SCRA tour since, and now splits his time between SCRA, USAC Silver Crown, and IRL duties. Look for J. J. in his father "Cactus" Jack Yeley's #2J.

Cory Kruseman is no longer an up-and-coming driver -- he's one of the guys to beat! After a 1995 season in which he recorded 6 SCRA main event wins, Cory had a frightening crash at the Sacramento mile in a midget in October 1995. "The Kruser" suffered some injuries, but healed enough by February '96 to run the 1996 SCRA season opener. Since then Kruseman has become the 2nd winningest driver in the SCRA's short history! Cory loves racing, and his enthusiasm shows in post-race pit chat, even if he didn't win that night. Stop by and say hi the next time you see his #45 at the races!
Credits
Page layout, photos, and text copyright © 1994-1999 Chuck Fry. Unless otherwise stated, all photos this page are by Steve Lafond, and are copyright © 1993-1999 Tear-Off Heaven Fotos.
See the full copyright notice for details.
Special thanks to Steve Lafond for lending me the camera (and big honkin' flash setup!) with which many of the 1999 NARC photos on this page were taken.
---
Sprint car home / The California scene / California tracks / California drivers / Sprint links
---
California sprint car drivers / Copyright © 1994-1999 Chuck Fry / webmaster@chucko.com