Mike Keneally and Beer For Dolphins
On May 26, 1999, I was at a performance by Mike Keneally and Beer For Dolphins, at the Baked Potato in Hollywood. If you haven't heard of them yet, check them out! Mike and the Dolphins are a wildly inventive bunch of musicians, and the fun they have on stage is infectious. See the link above for a current performance schedule.
On this date I happened to have my camera handy, and neither the band nor anyone in the club seemed to object to my taking a few pictures. (The place was full of tapers, so bitching about photography would have been hypocritical!) The pictures on this page were just some of the better ones from the two rolls of film I shot. Click on the images to get larger versions, which are guaranteed to be too big for your screen (most are at least 1K pixels on a side), but may be suitable for printing.
If these images seem dark on your PC, I apologize; I put them up in a hurry, and I used a Mac to create them. I will correct this if enough people complain. But hey, they looked good to me!
Write me if you'd like to see more, or if you'd like a printed copy of one of these photos.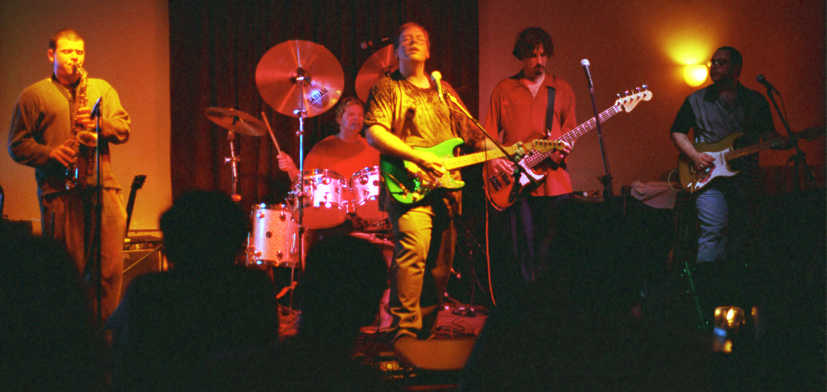 The entire band. From left: Evan Francis, Jason Harrison Smith, Mike Keneally, Bryan Beller, and Rick Musallam.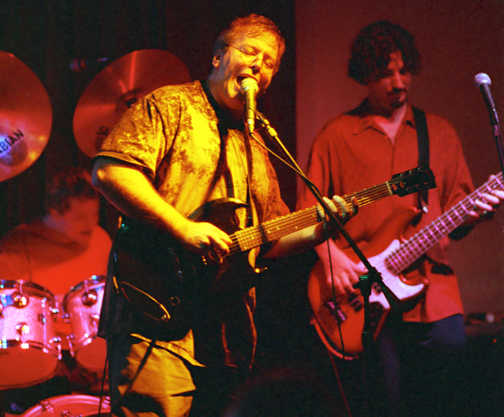 The core of Beer For Dolphins. From left: Jason Harrison Smith, Mike Keneally, and Bryan Beller.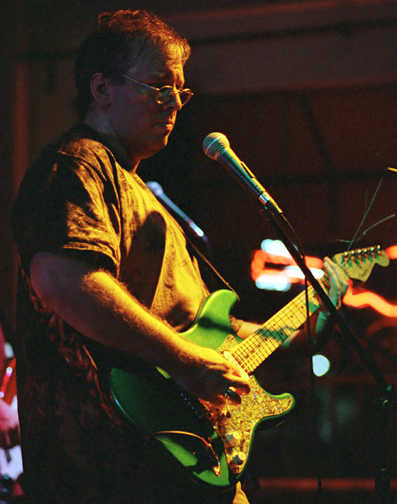 Mike and his favorite guitar Jesse in a thoughtful moment. (I like this picture best out of the whole bunch!)
Technicalia
These images were taken with a Canon T90 camera, using Canon 35 mm f/2, 50 mm f/1.8, and 100 mm f/2 lenses. Only the available stage lighting was used. Film was Kodak Ektapress PJ400 and Kodak Portra 400 NC, both pushed one stop to EI 800. Most exposures were wide open at anywhere from 1/20 to 1/60 of a second.
The resulting negatives were scanned on a Nikon Coolscan III (LS30) into my Mac clone, mildly touched up (mostly to reduce the grain in the shadows) in Photoshop, and saved with Boxtop Software's ProJPEG plugin.
Not bad for a first attempt at nightclub photography, huh?
Credits
Photos, text and page layout copyright © 1999 Chuck Fry. See the full copyright notice for details.
Thanks to Color Plus in Mountain View, CA for an excellent job of processing this film.
Special thanks to Mike Keneally, Scott Chatfield, and the staff of the Baked Potato for letting me get away with this!
---
My MK/BFD page / Chuck Fry / webmaster@chucko.com